Avery Gallery
presents "
Western Realism by Hubert Wackermann
" on Friday, October 6 from 5 - 9 pm.

Sharp Mountain - 11" x 14"

The Gorge - "Cloudland Canyon"
20" x 16"
Though born and educated in West Germany,
Hubert Wackermann
has traveled the American Midwest and to many Native American reservations throughout North America over the past 48 years. His Indian friends liked him so much for his fine art paintings and trusted him enough to sponsor him as an immigrant.
Wackermann's first study trip to North America in 1969 provided the opportunity to visit the Indians of Canada. Subsequent trips to Canada, the United States, and Mexico in the 1970's provided further opportunities to more thoroughly research the Indian, his culture and lifestyle. Upon immigrating to Canada in 1976, Wackermann lived for a year on the Six Nations Iroquois (Mohawk) Reservation in Southern Ontario. During this time, he taught art classes, and had the opportunity for more in-depth study.
| | |
| --- | --- |
| Farewell - 16" x 20" | Swan Family - 16" x 20" |

In 1977, Wackermann immigrated to the United States through Puerto Rico, where he was married. In 1980, Wackermann, his wife, and three children settled in Rio Rancho, New Mexico. This location provided occasion for continued study and observation of Indians of the Southwest.

| | |
| --- | --- |
| Still Reflections - 11" x 14" | Yellowstone Sunset - 12" x 9" |
Now living in Marietta, GA, Wackermann continues to tell the stories of the daily lives of Native Americans through his paintings.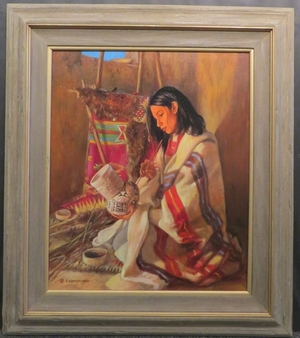 Stella's Pot - 24" x 20"
Western Realism by Hubert Wackermann - 5 to 9 pm, Friday, October 6 at Avery Gallery
. Parking is free in our parking lot next to our building and next door in front of Cobb Hardware, after 6 pm. There is plenty of parking at the church across Olive Street.